By Tracy Durrant
On August 6 1962, Jamaica became an Independent Nation and a member of the British Commonwealth. As well as this being a time to celebrate Jamaica no longer being dependent on Britain to control specific functions of the country, it's also a time to honour all of the people involved in the transfer of power as well as the six national heroes and one heroine.
With Sir Alexander Bustamante, Jamaica's first Prime Minister and the locally elected Cabinet in place, a constitution, symbols, emblems, an army, Jamaican currency and passports needed to be developed for Jamaica.
60 years on, as well as using this time to celebrate as many Jamaicans at home and across the diaspora will be doing during this time, it's also a time when many will reflect and ask what Independence means for Jamaica today and what tomorrow could look like. We asked the team at The Ubele Initiative to share their perspectives of Jamaica 60 as well as what they'd love to see in the future. 
What does Jamaica's 60 years of independence from British rule mean to you?

 
60 years of independence has seen Jamaica put its' own indelible stamp on the rest of the world. Its history, cultural heritage, food, music, sporting prowess and language is now global. You can go anywhere and most people know something about Jamaica. I was in a market in East Timor a few years ago and a man called out to me with 'Waa gwaan!' I was really surprised as I was almost 11,000 miles from Jamaica. It means that I can now also rightly claim independent citizenship so in addition to being British I am also a proud Jamaican in the African diaspora! - Yvonne Field, Founder and CEO (The Ubele Initiative)
As a Jamaican born before independence but had the good fortune to have 'experienced' the joy and jubilation at the time, holding our 'independence cup' in hand, the 60yrs to me is part of a growing birthing journey. As we'd say back home, 'we cum far but have far to go!' - Karl Murray, Associate Director for Research and Evaluation
It means that the British still maintain subtle control over the island. I celebrate and enjoy my Jamaican heritage. I first visited at 10 years old and never got over that enveloping warmth I always feel as I descend the steps of a flight. Jamaican cuisine is my greatest love if I am truly honest, next would be the beaches and the warmth of the people. - Yvonne Witter, Senior Programme Manager
I live in between Jamaica and the rest of the world. As I identify as Jamaican - it is important that we achieved self-governance for those who live on the island and those who live in the diaspora.
Now it is important to build on a forward direction towards full independence - becoming a Republic.
The world is being colonised according to who has money and those who are dependent - so it is really important that the island - like Barbados, achieves at least the facade of self-governance to defend the borders of cultural identity and recognition of intellectual property. - Arlene McKenzie, Project Manager
Jamaica's Diamond Jubilee awakens a sense of pride in me that had waned due to the pervasive social issues, particularly, crime and violence. Sixty years of independence means we should be ready to take action to utilize underused resources, create more meaningful connections with the diaspora and engage this new generation in patriotic action toward 'true independence. - Tishauna Mullings, Learning & Practice Coordinator
What would you like to see for Jamaica in the next 60 years?

 
I don't want to wait 60 years (as I won't be around!) but I would like to see much closer ties between JA and the African continent; for Jamaica to lead the way for the Caribbean region and strengthen homecoming arrangements with Ghana and other African countries. We need to close the gap between Africa, the Caribbean and Black Europe so that our young people can fully embrace all three continents as their home. - Yvonne Field, Founder and CEO (The Ubele Initiative)
Some signs make me hopeful:
(a) Highway 2000 provides a good transport link to the North Coast and around the coastal stretch from east to west;
(b) improvements taking place around the island in terms of infrastructure support generally, including support for the young unemployed and scholarships to higher education and learning.
On the flip side I'd like to see:
(a) A better and improved public transport system, including bringing back the rail network;
(b) A better and improved water system in districts that are cut off from main areas (my district in the parish of St Catherine, the largest parish, has no running water and has been thus for decades);
(c) Improved interior roads and local transport hubs... I can go on, but it's a slow burn and, at 60yrs, we are at the starting post. - Karl Murray, Associate Director for Research and Evaluation
They release themselves culturally from the shackles of empire and colonialism to become a republic. - Yvonne Witter, Senior Programme Manager
Real self-governance, reparations delivered in the form of education development, and greater partnerships with diaspora organisations can assist in creating bridges for development.
Eradication of the horrendous crime figures. Improvement of property and land issues related to ownership at home and with diaspora citizens. Greater environmental sensitivity, empathic governance, and better management. - Arlene McKenzie, Project Manager
I would love to see fluidity between the diaspora and Jamaica that goes beyond remittances to include sharing of skills, best practices and a reverse Windrush where people of Jamaica's heritage with education can return to serve the nation in developing cutting-edge industries.
In some instances, we could teleport talents and people could also physically relocate (permanently or temporarily) that could grow our economy and alleviate social ills like poverty and crime and violence.
The long-advocated reparations fund could be used to supplement salaries for experts coming to Jamaica to be paid competitive salaries. Some of the issues that require these innovative solutions include the need for proper waste disposal services, the development of a world-renowned education system, as well as the need to protect the coastline and related assets, and the lowering/eradication of crime and violence as well as unemployment. - Tishauna Mullings, Learning & Practice Coordinator

How could Ubele contribute to the change you'd like to see for Jamaica?

 
Ubele needs to build our personal and professional links to help contribute to the development of Jamaica. We can explore how to help facilitate global youth exchanges and programmes for entrepreneurs and women. We aim to try and create a strategy for this over the next few years. - Yvonne Field, Founder and CEO (The Ubele Initiative)
If Ubele can engage with local district developments, to help support a bottom-up development agenda, then that would be something. The change I'd like to see is beyond the immediate scope of Ubele on its own, unless it can broker purposive dialogues at the grassroots.
If change is going to happen in those areas, leaving it to successive governments may not be enough, we may need to start changing hearts and minds locally, in the many districts that make up the country - not everyone lives in Town! - Karl Murray, Associate Director for Research and Evaluation
Not sure it is Ubele's role to influence the politics of Jamaica. However, there is a richness in the exchange of skills knowledge and experience as people outside of Jamaica have no clue about the rich abundance of culture on that island. What is popularised about Jamaica, is merely a fraction of what is available to those willing to experience the physical beauty of the place, the love and generosity of the people and its culture - Yvonne Witter, Senior Programme Manager
Partnerships with island-based organisations and projects, training and development, building bridges for positive transformation - Arlene McKenzie, Project Manager
Ubele is a well-oiled machine equipped with many tools to create social change that can be shared with community enablers in Jamaica.
Ubele's global vision includes Jamaica and the dots aligning our work in the UK to Jamaica are being connected as we have done significant work in Jamaican communities in the UK to include developing community spaces for Jamaicans in the UK, community entrepreneurship programmes in the Dominoes Clubs and capacity building for Jamaican-led community groups in the UK who have deep-rooted connections in Jamaica. - Tishauna Mullings, Learning & Practice Coordinator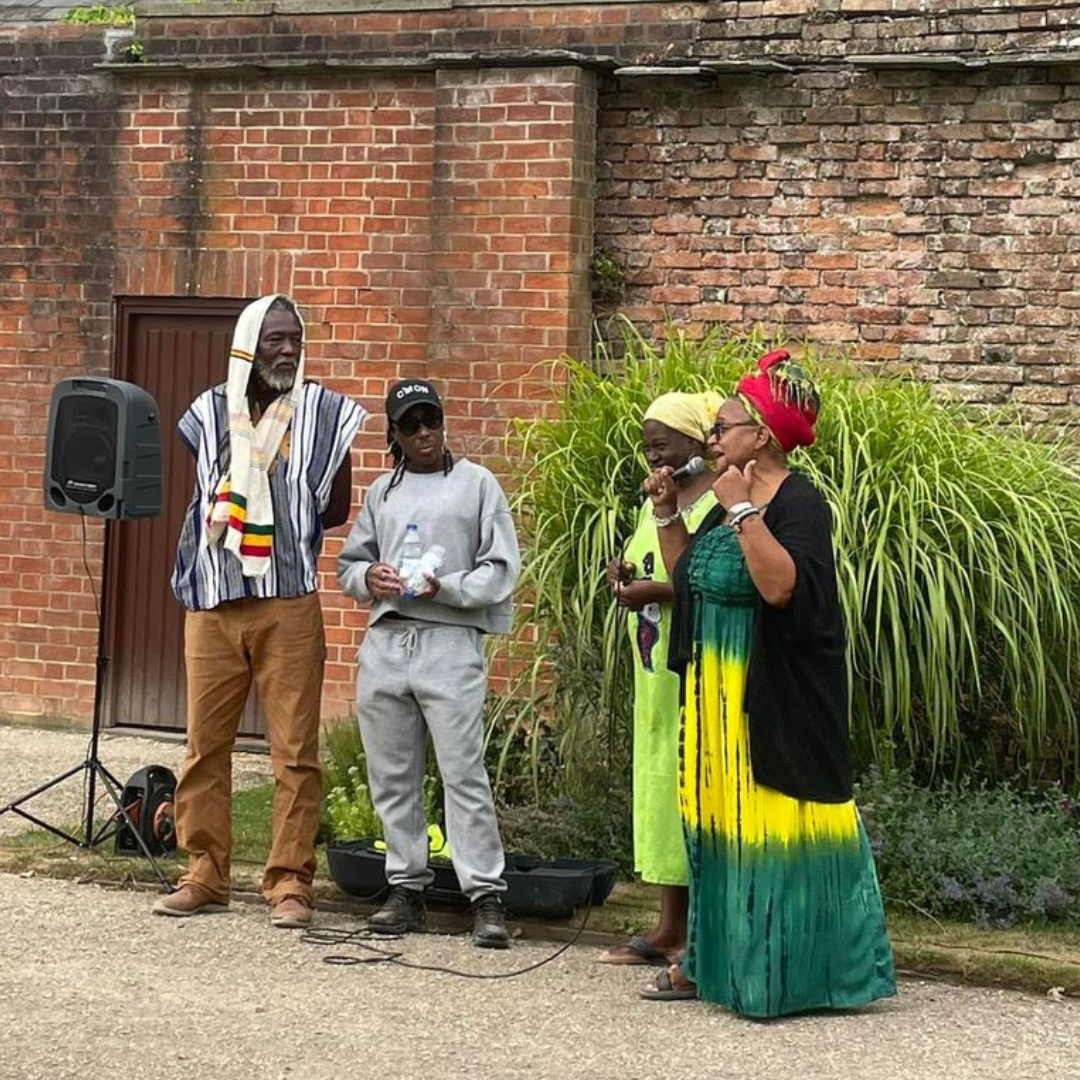 Photograph of Firstman, Loren Henry, Queen I and our very own Arlene Mckenzie at Urban Circle Newport for Reggae and Riddim Festival 2022.
Jamaica 60 Celebrations
"Reggae and Riddim Festival 2022 by Urban Circle in Newport came together as a result of a youth group partnership with a Jamaican community to successfully create an event that brings third-generation Caribbean diaspora community in touch with authentic cultural expressions as well as planting seeds for the development. As well as a Celebration of Jamaica 60, this event (headlined by Luciano and Maxi Priest) was an opportunity for the 'Rastafari Indigenous Village' (who I work with in partnership with Ubele) to connect and share" - Arlene McKenzie, Project Manager