By Tishauna Mullings 
Jamaicans represented the largest Black Caribbean group in Britain with a total of 160,000 people according to the 2011 Office for National Statistics Census. While there are other growing populations of diasporic Black groups in the UK, Jamaicans continue to move for work, to unite with family and for other reasons.  
Jamaica's 60th Diamond Jubilee is important to The Ubele Initiative; our vision is to empower Black and racially Minoritised communities across the UK to be catalysts of change and Jamaicans make up a portion of that population. Additionally, the resilience and robustness of the Jamaican community in London in particular are said to have contributed significantly to many of the legislative changes.  
Since the arrival of SS Empire Windrush in 1948, the migration wave from Jamaica to the UK has continued leading to the development of a strong diaspora community and generations of people of Jamaican heritage. The 492 Jamaicans who came in 1948 were seeking opportunities for a better life while working and contributing to the British economy. This created the culture of working to send back money to 'yaad' in the form of remittances. In this Jamaica's 60th year, the country had embarked on a yearlong celebration of its diamond jubilee. Diasporic connections and tourism are at the top of the agenda for intentional development. We need to look at sharing more than remittances and engage in more impactful exchanges that cause positive systemic shifts. I would love to submit the idea that teleporting talent to have individuals from the UK (with expertise) contribute to building Jamaica as the Silicon Valley of the Caribbean Region. This aligns with Ubele's goal to strengthen our communities through enterprise and asset development. In doing so, we will make movements from jubilation to legacy building.  
Young Jamaica Research Oroyo Ebanks drew on research from Ying, Manderson and Smith (2010) to underscore that while there are about 66 registered Jamaica diaspora associations or organisations in the UK, there is a need for synergy and collaboration. These and similar organisations in the UK should stay true to Jamaica's motto: 'Out of many one people' acknowledging a quest to be inclusive and collaborative with people from any class, creed or nationality in forging forward towards progress in advocating for equity and justice in communities even beyond the Jamaican diaspora.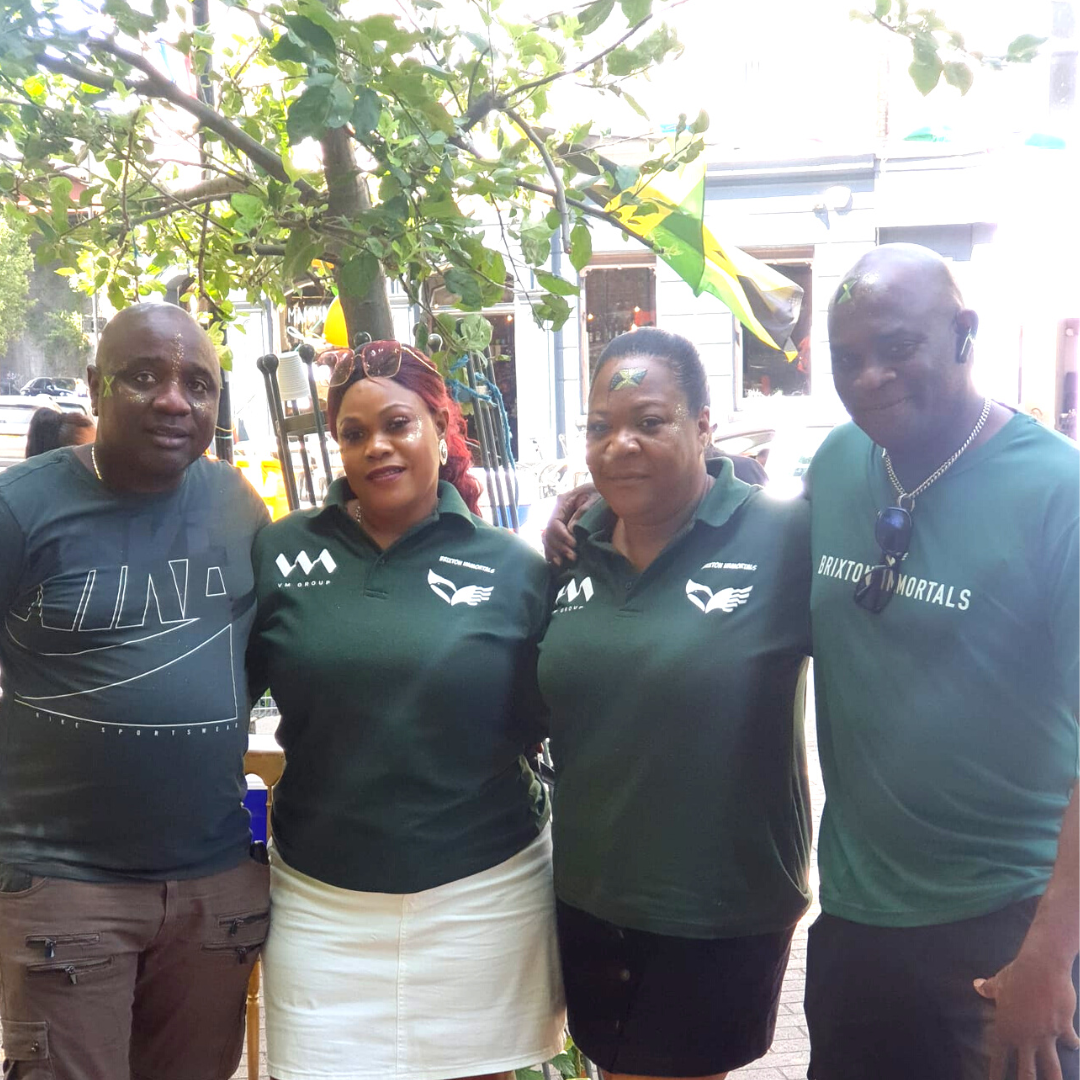 (Photograph of Brixton Dominoes Club members, A Family Fun Day/Jamaica 60 Celebration Lloyd Leon Community Centre)
'It's a time to reflect on how far we have come as Small Island and the achievements we have made. Many Jamaicans who struggled to achieve in rural communities and inner cities at home have been able to create better futures in the UK while supporting their families in Jamaica too. It doesn't matter where in the world we are; we are Jamaicans. I hope that young people of Jamaican heritage will learn the culture and history of Jamaica and develop a sense of patriotism.' - Mervin Stewart, Head of Brixton Dominoes Club. 
Mervin underscored that 'The Dominoes Club highly respects Ubele as the dominoes club has grown significantly in terms of management capacity due to Ubele's support. The leaders of the club have achieved personal growth through leadership development through various leadership and enterprise development training efforts run by Ubele. Ubele is also doing phenomenal work in creating a community space fit for the next 50 years in which the dominoes club will operate. We are excited.' 
While Jamaica gained independence in 1962 and has made significant strides in terms of national development indicators such as housing, infrastructure and education; there is a long way to go towards economically a flourishing, just, inclusive and safe society. Similarly, considering our geopolitical size, we have made a formidable impact on the world stage through sports and music yet there are still growing challenges such as the migration of talented Jamaicans.  
Jamaica is coming out of the COVID storm into its 60th Independence anniversary year-long celebrations that are being observed under the theme 'Reigniting a Nation for Greatness'. This represents a display of resilience and this energy must be carried into dealing with social ills that often thwart the country's efforts at growth and development. Jamaica's emancipation from slavery and its political independence should ultimately culminate into a well-functioning liberal democracy that breaks down political walls of segregation. This kind of Jamaica should be free from neo-colonial oppression. Member of the wider Ubele network, Tony Cealy, born to two Jamaican parents concurs when he noted that the togetherness that usually comes with Independence Celebrations should bring us closer together to consider perspectives for real progress and tackle real issues. 
My vision of a Jamaica reignited for greatness is one where the global Jamaican community is united on the mission to create a Jamaica that is true to the national pledge of contributing to the welfare of the human race. 
References  
Eubanks, Oroyo. (2016). The Jamaican Diaspora in London: New media, Identity, Politics and Community. 10.13140/RG.2.2.24236.16002.   
International Organization for Migration (2007). Jamaica Mapping exercise, London. IOM  
International Organization for Migration. Available from http://unitedkingdom.iom.int/sites/default/files/doc/mapping/IOM_JAMAICA.pdf [Accessed  3 July 2016] 
Ying, N., Manderson, M., and Smith, A. (2010). Jamaican Diaspora Governance and  Operational Structure: The Way forward. Available from:  
http://www.migration4development.org/sites/default/files/Governance_Report_Executive_Summary.pdf [Accessed 26 June 2016]