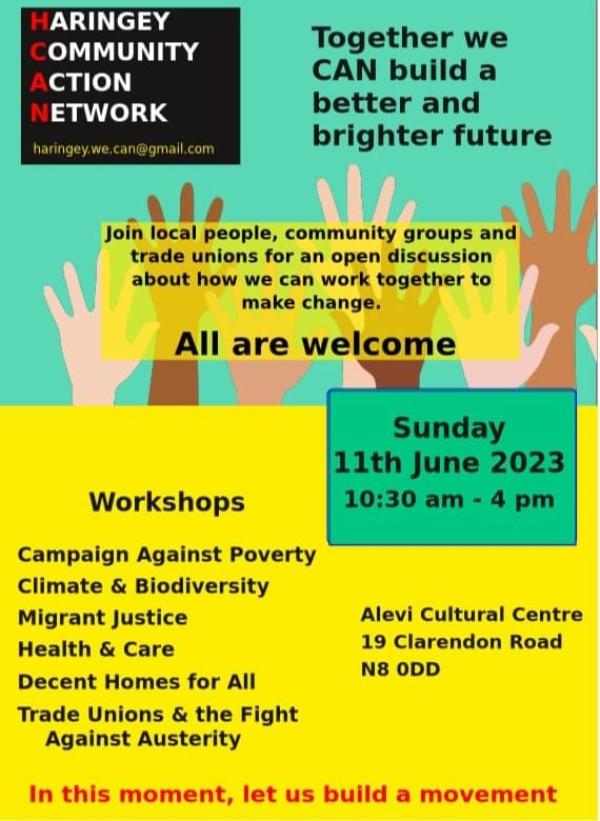 Voice4Change-England free Building Resilience Online Workshops
Managing Money - Online 
Date: 14th June 2023 
Time: 1:00 PM – 2:30 PM 
Facilitator: Ila Chandavarkar, Trustee Voice4Change-England
Digital Fundraising - Online 
Date: 21st June 2023 
Time: 1:00 PM – 2:30 PM 
Facilitator: Jana Kovariova, Development and Grant Officer Voice4Change-England
While these sessions are introductory, Voice4Change-England does offer 1-2-1 support to its members and grantees for more in-depth exploration of specific topics.
To register for these workshops, please click here 
The deadline to register for Managing Money is Monday 12th June 2023 at 12:00 PM. 
The deadline to register for Digital Fundraising is Monday 19th June 2023 at 12:00 PM. 
🌱 *City & Guilds Level One Accredited Horticulture course* 🌱

At Wolves Lane Centre, Wood Green  N22 5JD                 

10 Week introduction to food sowing & growing

*STARTING 18TH JUNE 2023*

Led by Sandra Salazar D'eca (Go Grow with Love) 

"Growing in Love & Unity" 

Limited spaces on a first come, first served basis 

Subsidised places available please enquire via the link. 👇

*BOOK NOW here*

Windrush 75: Walk of Witness - 22nd June 2023
You are cordially invited to participate in the Windrush 75: Walk of Witness on Thursday 22 June 2023, which starts at 12 noon in Waterloo Station, London and ends at Southwark Cathedral, London, SE1 9DA. In keeping with the 75th anniversary marking the docking of the Empire Windrush at Tilbury Docks; 75 walkers will make their way through south London, an area synonymous with the Windrush generation, in homage to those Caribbean men and women who hav
e made an immeasurable contribution to the socio-economic, political and cultural landscape of Britain.  
The Walk of Witness will begin with a 20-minute gathering in front of the Windrush Memorial at Waterloo Station,before embarking on the 1.2 miles walk, which will take around 40 minutes. The route will see walkers using the pavement throughout, and every effort has been taken to avoid busy roads and be mobility friendly.  
Several of the walkers will be carrying a floral replica of the Windrush ship's anchor as a further way of remembering those original Caribbean passengers. The walk will also be filmed, and participants are encouraged to talk about their reasons for being on the walk, and how the Windrush anniversary resonates with them. The Walk of Witness culminates at Southwark Cathedral, where at 1.30pm, interviews and photographs will take place.  
All walkers are also encouraged to join with those who are attending the Windrush 75 church service at Southwark Cathedral, which starts at 2pm that day.  
Please email Richard Reddie at Richard.reddie@ctbi.org.uk if you intend to participate in the Walk of Witness.  
Be sure to check back here every week for more news, events and opportunities.
Sign up to get news delivered to your inbox here: http://eepurl.com/dxgHjr