The Recovery Loan Fund assists organisations led by Black and Racially Minoritised teams in getting back on track post-pandemic, offering loans of between £50k and £1.5m, with up to 100% grant match funding on loans secured, and support through the application process and follow-on business support.
To be eligible to apply for the Recovery Loan Fund and receive additional support, the organisation must:
Be a charity or social enterprise

Have at least 51% of its Board and Senior Leadership Team from BAME communities

Have a turnover of above £200k

Be applying for a loan of between £50k and £1.5m

Have been operating for more than two years

Operate in England

The Recovery Loan Fund is open for applications until 11.59pm on Sunday, 31st of December 2023. Email josh.falconerroberts@ubele.org for more information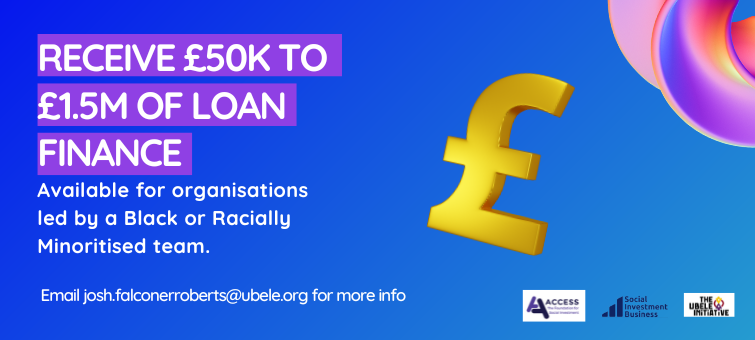 Applications are open for the UK Social Enterprise Awards  
Applications are now open for the UK Social Enterprise Awards – the biggest celebration of the leading lights in the social enterprise movement.  
As well as the award for overall Social Enterprise of the Year and the 'One-to-Watch Award' recognising a pioneering start-up business, there are categories for social enterprises leading the way in particular fields, from education and training to public services. The awards will also recognise social enterprises tackling the climate crisis as well as those working to promote equality, diversity, inclusion and justice. 
For the first time, there is a specific award recognising the 'Social Enterprise Innovation of the Year', shining a spotlight on the creativity in the sector. 
Applications close on Friday 30 June and the winners will be announced at a gala ceremony taking place at the Roundhouse in London on 30 November.