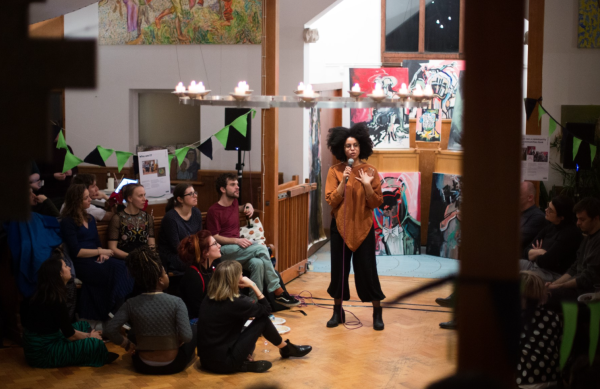 A social microclimate for your learning and development
Our friends at Huddlecraft are offering a smorgasbord of 'Huddles': small peer groups who come together around a theme that sets them alight, to learn, create or take action. Together they unlock potential they couldn't unlock alone. Huddles start in September and cover themes including: reimagining hope, facing your fears, creative practice, anti-racism for white men and many more! Each Huddle is a one-off. Check it out! Link to find out more about the Huddles on offer: https://www.huddlecraft.com/huddles
Co-op Community Dividend Fund Re-Opens to Applications (Central England)
The Central England Co-operative has re-opened its Community Dividend Fund to support good causes, groups and charities in central England. More here
Groups can apply for grants of between £100 and £3,000.  The grants are available to members of Central England Co-operative for projects that aim to develop and improve communities by supporting access to food; health and wellbeing; inclusion of vulnerable, excluded, or hard to reach groups; and the environment.
Grants are available to full members of Central England Co-op in the following areas:  West Midlands, Warwickshire, Worcestershire, Staffordshire, Derbyshire, Leicestershire, Rutland, Nottinghamshire, Northamptonshire, Lincolnshire, West Yorkshire, South Yorkshire, Suffolk, Norfolk, Bedfordshire and Cambridgeshire.
The next deadline for applications is the 29th September 2023.
Community Fund - Cost of Living Fund
This funding is for organisations that support people and communities under severe pressure because of the increased cost of living. Their main priority is to fund organisations supporting low-income households and individuals. Funding between £10,000 and £75,000 is available. Deadline is on Monday 16 October. Details here
How can you maximise the opportunities available from social enterprise models and solutions?
Social Enterprise UK's (SEUK) 'Transitions' report reveals that as many as a fifth of SMEs in the UK aspire to make a positive social impact – but are not currently operating formally as social enterprises. This means more than a million organisations have the scope to transition to social enterprise status, and contribute more to the economy and society in doing so.
As a result of its findings, SEUK is encouraging businesses in the UK to consider their status and learn more about how they could benefit from transitioning to a new model. Read more here
📢 Charities and Social Enterprises: How can we help? 
As part of our Recovery Loan Fund campaign, we're running a series of webinars and workshop events over the next few months for small business owners interested in exploring ways to scale up and create financial sustainability. Look out for details on Ubele social media and website for more details. If you'd like more details about the Recovery Loan Fund, contact Josh: josh.falconerroberts@ubele.org
The GSK IMPACT Awards
The GSK IMPACT Awards provide funding, training, and development opportunities for charities that are making significant contributions to improving people's health and wellbeing. Grants ranging from £4,000 to £50,000. For stage 1 applications is 5.00 pm on Friday 1 September 2023. More here
Sign up to the monthly Ubele news, here: http://eepurl.com/dxgHjr