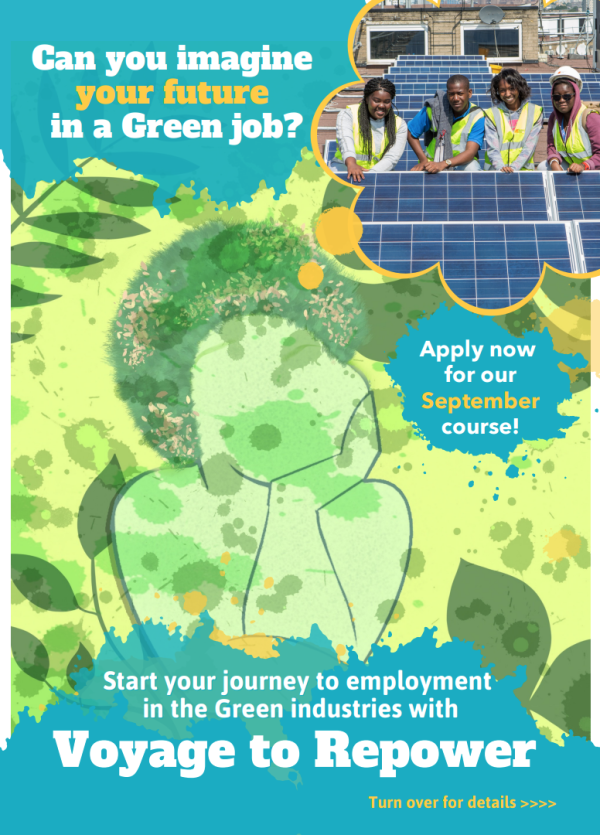 ⭐️ Voyage to Repowering
We at Voyage have developed a new project with a local Brixton Partner you maybe aware of? They are called Repowering London?
We have developed an amazing collaborative project called Voyage to Repowering neatly combing our respective skill sets, personal leadership courses/ workshops and environmental skills. I have attached a flyer for more information.
We are recruiting young people from the unemployment line, through YOTs as well as local people and projects like yourself and wondered if you had any young people who might be interested??
Essentially this is a part-time education to work course, introducing young people into the Green industries. It will run for 15- weeks starting on the 13th of September – on Wednesdays and Thursdays 10 am to 4 pm. Location – St. Vincent's Lower Hall, Talma Road, Brixton, SW2 1AS.
Each participant will receive a refurbished 2nd hand laptop to work with and £25 for attending the course and £10 for travel expenses.  The total of £35 will be paid in cash, weekly on Thursdays.
⭐️ Locality Convention
Tickets for @localitynews Convention are on sale NOW!
Connect with inspiring people who are transforming communities.
Come away with the skills and tools you need to achieve more for your community.
Bristol
7 & 8 Nov
🎟️Tickets: https://locality.org.uk/events/locality-convention
🌱Grow your knowledge and skills
🔗Get connected
🗣️Influence the bigger picture
🎉Celebrate the #PowerOfCommunity
Join @localitynews annual Convention in Bristol: https://locality.org.uk/events/locality-convention #Locality23

We're getting excited for @localitynews Convention '23 on 7-8 Nov in #Bristol 🎉  Get the inspiration, energy & motivation you need to keep doing amazing things in your community.
Book now #Locality23: https://locality.org.uk/events/locality-convention
Sign up to the monthly Ubele news, here: http://eepurl.com/dxgHjr