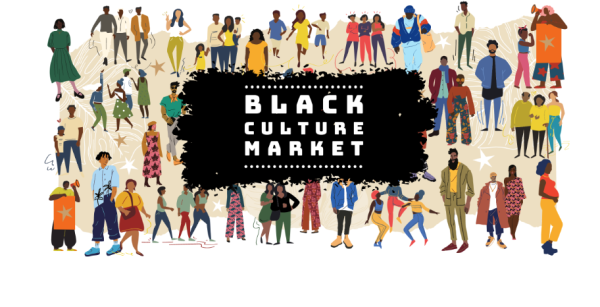 ⭐️ Black Culture Market
Taking place in London, at the end of the month. Read more here
Black Culture Market supports emerging entrepreneurs & new black businesses of African & Caribbean descent with opportunities to showcase and sell their products in the retail industry. They achieve this by curating and hosting exclusive Black Market events in a variety of iconic venues across London and beyond.
The event exists to:
help close the wealth gap

create more jobs and opportunities

inspire more ownership
The next event takes place over two days in the heart of Brixton offers a diverse, quality shopping and cultural experience celebrating producers of the African & Caribbean community. If you're looking for gifts, cards, unique prints, jewellery, male grooming kits, skincare, clothes or other original accessories come down! This market truly embodies the community's spirit as well as supports black businesses.
⭐️ Greater Manchester Black History Month Civic Launch
A Celebration of Black History Month with CAHN!
Join us for a splendid commemoration of Black history, achievements, and culture. This event is not just a showcase; it's a vibrant tribute to our shared heritage.
Details of the Event:
28th September 2023
Venue: Manchester Cathedral. Victoria St, Manchester M3 1SX, UK
Highlights:
– Experience a fusion of arts, culture, speeches and historical recounts.
– An atmosphere brimming with pride, unity, and celebration.
More here
⭐️ Correcting Our Collecting - a BCA event
Starting in August 2023, this popular course is created by Decolonising the Archive (DTA) for the African Heritage community in an effort to nurture and preserve the rich culture we have inherited from our ancestors and to harness agency in honouring and preserving our evolved culture that we as a community, have created, as part of our legacy here in Britain.

We invite participants from the community to enrol in this 8-week archive and collections orientated course. If you are looking for new, exciting, and purposeful pathways to a career, hobby or project, join us every Wednesday at 6pm for an exciting journey into archives and preservation.

More here 
⭐️ ACCELERATING THE PACE OF CHANGE – DEVELOPING AN INCLUSIVE WORKFORCE
 As a leader in tackling structural inequalities and in promoting a more inclusive workforce, the GLA would like to invite you to an important Mayoral event taking place on Monday 25th September 2023, 13:30 – 17:30, at Macquarie offices, central London. We hope you can join us, because we need leaders like yourselves who are advancing the cause of minoritised communities and people with protected characteristics to join us, to consider how we can advance the pace of change as a city.
As you will be aware there are many helpful and worthwhile initiatives to increase both representation and parity in relation to people with protected characteristics in the labour force. How can we as a city apply a step change in the pace of change?
This event focussed on Black, Asian and minoritised communities is one of three themed challenge events designed to be a provocation to accelerate the rate of change in addressing workforce underrepresentation. In particular, we will be asking if positive action and hard targets, coupled with accountability at all levels, is the way forward to step up the pace on under representation in the workforce. The second themed event will focus on the underrepresentation of disabled people in the workforce and the third on gender underrepresentation in the workforce.
 This significant leadership event is launched as part of the Building a Fairer City Action Plan, which is an ambitious three-year plan to encourage and challenge organisations in London to make changes that will contribute to a fairer London. This plan was developed by the Structural Inequalities Sub-group, which is a sub-group of the London Partnership Board that is co-chaired by the Mayor. The plan sets out 14 actions that organisations can take to make positive changes in the way they recruit their workforces, govern, deliver their services and work with other organisations, and strengthen London's civil society.
The event seeks to:
Reinforce, support and encourage all the existing progress and lend new energy to changemakers who are leading the way in developing a more inclusive workforce

Inspire attendees to find new ways to go further and accelerate the pace of change, providing practical methods and case studies

Identify tangible next steps to support action, taking forward ideas and themes identified by event participants as essential in accelerating change
This event will bring together senior leaders and cross-sector changemakers and campaigners via interactive panel discussions with opportunities for participants to put a provocation back to the panel.
Book your spot via the Eventbrite Link below to secure your place at the event:
https://www.eventbrite.co.uk/e/developing-an-inclusive-workforce-black-asian-minoritised-communities-tickets-712897334117
Sign up to the monthly Ubele news, here: http://eepurl.com/dxgHjr