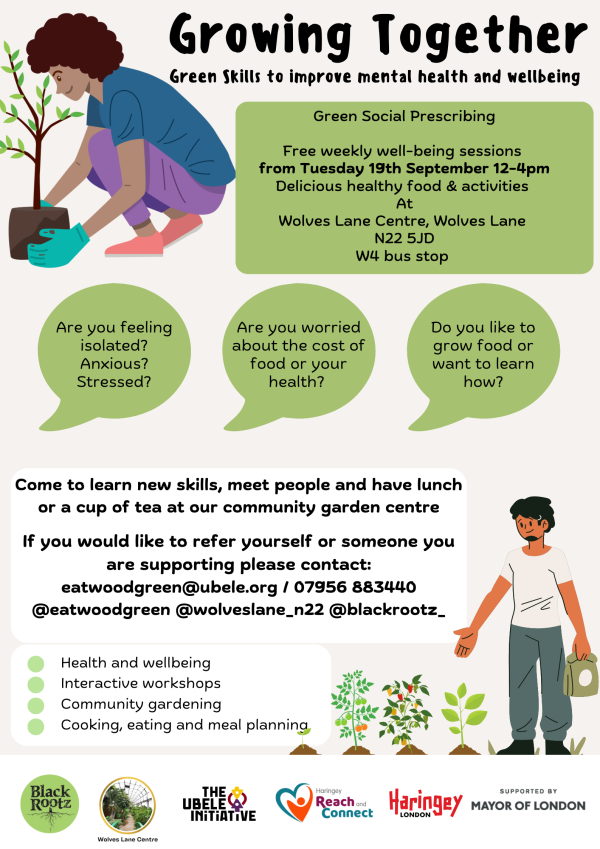 ⭐️ Growing Together
Growing Together is a 6-week social prescribing pilot program that will build confidence and enhance the emotional and physical wellbeing of participants from in and around Haringey. Participants will develop green skills while, grow their own food, and develop their knowledge on healthy eating habits.

The essence of the program lies in creating a supportive, safe and inclusive environment. Members of the community living with challenges such as lack of mobility, isolation, depression and other forms of ill health are welcomed to connect with each other, build new friends and networks and feel empowered to make positive changes in their lives.
The initial 6 week program will be delivered through a combination of health and wellbeing workshops and community gardening. Each session will begin with check-in and end with reflection on learning. Communal tea and lunch activities are also an integral part of meeting this program's objectives to enhance community connection and individuals' sense of belonging, improving confidence and enhancing wellbeing.
The program will be flexible to the needs of participants, making changes depending on the cohort, maintaining a person centered approach.
Our partnership with Public Voice, Reach and Connect, Haringey Council, access to Navnet, and work alongside North London Cares, the local NHS services and Natural England will enhance the program's impact and reach. Expanding the support network of our participants as part of their progression.

If you would like more details, or to discuss this further, please do contact:
Eat Wood Green Project eatwoodgreen@ubele.org / 07956 883 440 or Education Officer at Wolves Lane Education@wolveslane.org
⭐️ UK Black Business Week
This event takes place from 2nd-7th October. A brilliant networking opportunity with a host of speakers. Details on the event here 
 
You support your community, so we're here to support you. We'll be there from pre-application to post-loan business assistance, so you can spend more time doing what you do best. 
⭐️ Recovery Loan Fund - apply now!
Loans of £50k to £1.5m are available for charities and social enterprises run by Black and racially minoritised-led teams through the Recovery Load Fund.

Email josh.falconerroberts@ubele.org for more information. 
⭐️ Culture of Black Business Marketplace
Step into the vibrant world of Black-owned businesses at the Culture of Black Business Marketplace. From handcrafted jewellery, empowering stationery to culinary delights, unique fashion pieces, and much more, this marketplace brings together an array of products and services, all created with love and passion.
🕒 Saturday 7 October, 10 AM to 7 PM
📍Novotel London West, London, W6 8PW
🎉 A FREE event as part of CURLYTREATS Festival 2023

Book here
⭐️ Black History Month Event at Wolves Lane
Save the date. Join us on 15th October for a Black History Month event at our Wolves Lane site.
Sign up to the monthly Ubele news, here: http://eepurl.com/dxgHjr