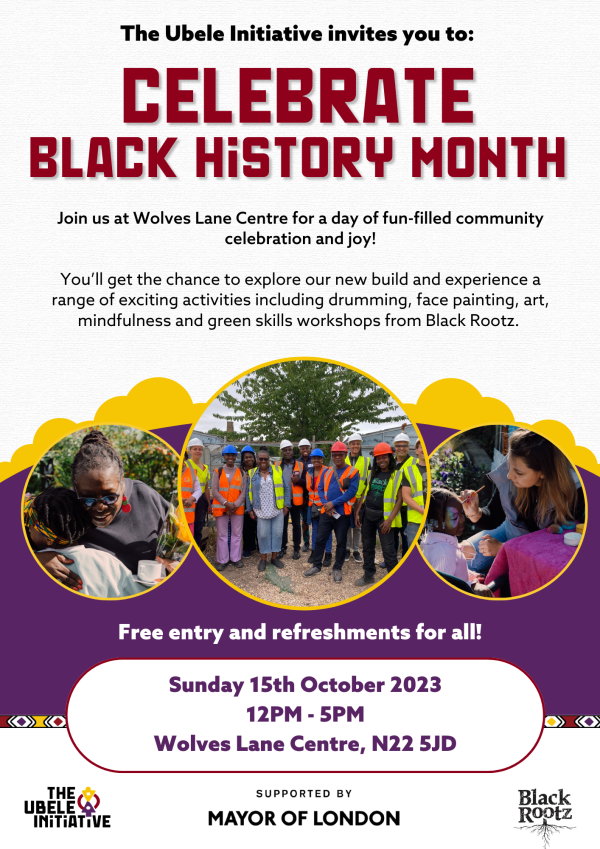 ⭐️ Celebrate Black History Month with us at Wolves Lane 15th October

Join us at Wolves Lane Centre for a day of fun-filled community celebration and joy

You'll get the chance to explore our new build and experience a range of exciting activities including drumming, face painting, art, mindfulness and green skills workshops from Black Rootz. Free entry and refreshments for all!
Come and help us realise our vision for a thriving hub of community activity at Wolves Lane Centre! Learn more about Ubele's key projects, including Eat Wood Green and our plans for a new food growing and education space in Haringey.
Register via Eventbrite
If you would like more details, or to discuss this further, please do contact:
Events Officer at Wolves Lane Events@wolveslane.org
⭐️ Sickle Cell Awareness Week
This Sickle Cell Awareness Month is highlighting that every year, people with sickle cell who receive regular transfusions need on average 100 blood donors a year to stay alive.
This year they urgently need 12,000 new Black donors to regularly give blood to treat sickle cell.
It's so important to #GiveBlood You could save a life. September is #SickleCellAwarenessMonth
Hear more from one of our Directors, Philip Udeh, here
Many people living with sickle cell require a blood transfusion every 4-6 weeks to make them feel well.
When they receive blood from a donor with the same ethnicity as them, it provides the best possible treatment.
Currently only 50% of blood transfusions given to people with sickle cell are not the best possible match and demand from hospitals is growing.
This is why we need more donors from Black African and Black Caribbean backgrounds.
Read more about the supply and demand of Ro blood in our latest report (PDF 2MB
⭐️ Jane Hatfield Award launch for 2024
We're excited to share with you that The Institute for Voluntary Action Research (IVAR) has launched a second year of the Jane Hatfield Award in partnership with The Ubele Initiative ('Ubele').
This Award is an annual grant of £5,000 for a team of young researchers to investigate issues or topics related to community, social action and/or social justice. This year IVAR and Ubele are making two Awards of £5,000 for 2024 to support two separate pieces of research.
To apply for the Award, you should have some experience of having previously conducted or been involved in a research project and are interested in strengthening these skills and pursuing a research topic of your own interest. We are particularly interested in receiving applications from young researchers (between 18 – 27yrs) from black and minoritised communities. Applications need to be from groups of two to three people, working together on a piece of research related to community and social action and/or social justice. If you do not already have a research partner or team in mind, IVAR and Ubele will be running two online events in October where you can meet other researchers and identify potential research partners/teammates.
You can find out more about the Award, how to apply and how to sign up for one of the online events in the attached briefing. The application process is open until Monday 13th November. You can also read about last year's Award recipients and download their research here: https://www.ivar.org.uk/jane-hatfield-award/
⭐️ The Glitch Misogynoir Report
Glitch is an award winning UK charity (1187714) committed to ending online abuse and making the internet a safer place for everyone, particularly women and unapologetically centring Black women.
Black culture, particularly online, is beautiful, joyful, wise and certainly funny. It also aids the resistance of white supremacy, from dance trends to brave acts of mobilisation around issues of social justice. These self-organised safe havens for communities that are marginalised should be protected and supported to continue flourishing, rather than be met with hostility, attacks, and the hijacking of spaces and trends. Engagement on these platforms shouldn't come at personal risk. These companies' rapid expansion shouldn't come at the expense of Black women's safety, nor should we be required to give up so much of our personal data (we'll need a whole other report for this). The Digital Misogynoir Report 7 This report illuminates the ways misogynoir shows up in online spaces; the way it spreads and intersects with other forms of white supremacy; and, most disappointingly, how it is still missed in content moderation by tech platforms. This report has been a long time coming; from influencing and supporting Amnesty International's Toxic Twitter Report 2018, our own internal research on the abusive experiences that Black women Members of Parliament endured during the 2019 General Election in the UK and, finally, our Ripple Effect Report that looked at intersectional types of abuse. Now we have developed a dataset and clear policy recommendations for tech companies, governments, civil society, academia and the general public so that Digital Misogynoir is believed and is addressed. This report offers a roadmap for dismantling Digital Misogynoir and improving the lives of Black women, whilst acting as a stepping stone in driving transformative research so that we can provide better online frameworks for joy-centered safety, instead of merely surviving violence.
Read their latest report, here
UK Black Business Week
This event takes place from 2nd-7th October. A brilliant networking opportunity with a host of speakers. Details on the event here 
 
You support your community, so we're here to support you. We'll be there from pre-application to post-loan business assistance, so you can spend more time doing what you do best. 
Sign up to the monthly Ubele news, here: http://eepurl.com/dxgHjr