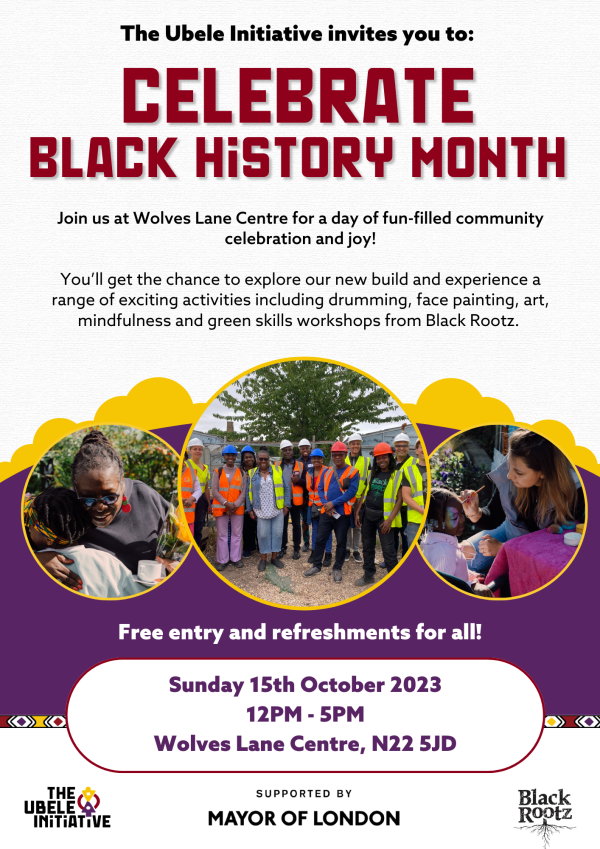 ⭐️ Celebrate Black History Month with us at Wolves Lane 15th October
Join us at Wolves Lane Centre for a day of fun-filled community celebration and joy
You'll get the chance to explore our new build and experience a range of exciting activities including drumming, face painting, art, mindfulness and green skills workshops from Black Rootz. Free entry and refreshments for all!
Come and help us realise our vision for a thriving hub of community activity at Wolves Lane Centre! Learn more about Ubele's key projects, including Eat Wood Green and our plans for a new food growing and education space in Haringey.
Register via Eventbrite If you would like more details, or to discuss this further, please do contact the Events Officer at Wolves Lane by email: Events@wolveslane.org
⭐️ Black History Month Special - Ubele Newsletter
Our monthly Ubele Newsletter is out this week. A Black History Month special, you can look out for an update from Yvonne Field as well as details of some of our latest projects and events planned. Sign up for the newsletter, here
⭐️ Yvette McDonald, founder of JustBe, up for an award!
A community leader who supports and brings together vulnerable and lonely women in London has been nominated for a BBC Make a Difference award. Yvette McDonald, founder of JustBe, has been hosting events and activities for isolated and elderly people for the past 14 years.
The BBC's Make a Difference Awards celebrate local heroes who give their time to improve their communities. The BBC London ceremony will take place on 4 October at Tate Modern. Described as someone who "thinks about everyone else before herself" , read more here
⭐️ Jane Hatfield Award launch for 2024
We're excited to share with you that The Institute for Voluntary Action Research (IVAR) has launched a second year of the Jane Hatfield Award in partnership with The Ubele Initiative ('Ubele').
This Award is an annual grant of £5,000 for a team of young researchers to investigate issues or topics related to community, social action and/or social justice. This year IVAR and Ubele are making two Awards of £5,000 for 2024 to support two separate pieces of research.
To apply for the Award, you should have some experience of having previously conducted or been involved in a research project and are interested in strengthening these skills and pursuing a research topic of your own interest. We are particularly interested in receiving applications from young researchers (between 18 – 27yrs) from black and minoritised communities. Applications need to be from groups of two to three people, working together on a piece of research related to community and social action and/or social justice. If you do not already have a research partner or team in mind, IVAR and Ubele will be running two online events in October where you can meet other researchers and identify potential research partners/teammates.
You can find out more about the Award, how to apply and how to sign up for one of the online events in the attached briefing. The application process is open until Monday 13th November. You can also read about last year's Award recipients and download their research here: https://www.ivar.org.uk/jane-hatfield-award/
⭐️ An update from The National Lottery Community Fund
It's #BlackHistoryMonth2023 and The National Lottery Community Fund are celebrating the amazing #NationalLottery funded projects designed by and for Black people. Last year, they awarded more than £50 million to over 1,000 projects supporting Black communities across the UK.
This year's theme is #SalutingOurSisters. Their latest blog spotlights some of the inspirational Black women from The National Lottery Community Fund who help make this funding possible.
Read the blog here 👉🏿 https://ow.ly/eSTk50PRMc2
⭐️ Black History Haringey 365 Celebration event
Black History Haringey 365 Celebration event at Bernie Grant Arts Centre on Thursday 12th October from 5.30 to 9pm. Please read below and book a ticket via the BGAC website.
This year, they're celebrating an exciting year-long programme of activities and events promoting Black history and heritage in Haringey.
Starting in October and continuing throughout the year, Black History Haringey 365 is an annual programme to highlight the fascinating and diverse history of Black communities in Haringey and promote Black history education throughout the borough.
This year's programme reflects the national theme for Black History Month 2023, 'Saluting our Sisters', shining a spotlight on the crucial role that Black women have played in shaping history, inspiring change, and building communities.
Explore the Black History Haringey 365 webpages here: www.haringey.gov.uk/bhh365
You can book a ticket via the BGAC website.
Sign up to the monthly Ubele news, here: http://eepurl.com/dxgHjr