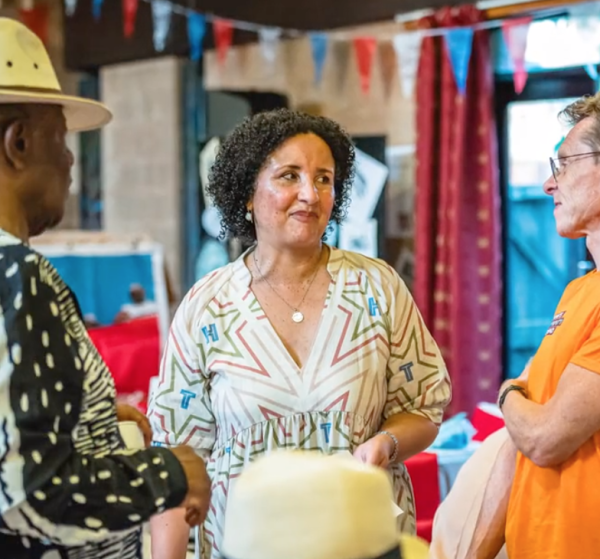 ⭐️ NEW blog:  National Lottery Community Fund
Today, The National Lottery Community Fund published a blog by their EDI Manager, Fiona Joseph, where she reflects on visiting one of their Windrush 75 funded projects and her personal connection to Windrush. Read more here 
⭐️ Cost of Living Challenge Fund
This is support for your trading to meet the needs of hard hit communities
Are you developing or growing an ambitious trading-based solution to support communities hit by the cost of living crisis?  
Are you aiming to increase your trading by at least £15k by summer 2024?   
We want to supercharge your trading plans, by challenging you to increase your trading, and supporting you through grant funding and a capacity building programme offering advice, training and support.
SSE's Cost of Living Challenge Fund offers support to charities and social enterprises serving the most disadvantaged communities in England who are struggling most with the cost of living crisis – for example, those that are providing food, energy saving and warm spaces, access to essential goods, financial advice, essential transport, mental health support and access to housing. 
What's on offer?
·         A match trading grant of up to £25,000, with the possibility of rapid drawdown and further funds for exceptional performance.
·         Capacity building support between Jan-July 2024 to help build your organisation's resilience and sustainability and support your enterprise activity to meet increased demand. 
For more information, visit the website for full guidelines
⭐️ Go! London Funding Round Open
Apply now for the second round of our Foundation Grants! Funding of up to £40,000 is available to organisations using sport and physical activity to improve the lives of young Londoners. Find out more and check if you are eligible, here
The Foundation grants focus on support and sustainability. They will fund projects that support more children and young people to take part in sport and physical activity, and that improve the sustainability of the groups delivering these activities so they can become more resilient in the future. 
Grants of up to £40,000 for a maximum of two years (but we expect the average grant to be between £25,000 and £30,000) 

Available for community groups and organisations trusted by underserved children and young Londoners 

Funding can be for project-based costs, core organisational costs, or both 

Funding can support existing projects that are already taking place. 

The second round of Foundation grant applications open in October 2023 and two more rounds in 2024 – join their mailing list to be the first to know! 
More details here
⭐️ An Update on Elevate by Peggy
Elevate creates opportunities for acknowledging and valuing similarities in our lived experiences as well as our plethora of differences, building and co-existing in community where 'sisters are central'. Elevate's approach to leadership development uniquely provides a consistent antidote to the false perceptions and narratives of 'sister competency' and creates context and opportunities for 'sisters' to individually and collectively, re-see, re-evaluate and reclaim our truths, powers, and positions. We feel incredibly honoured to have walked with the 89 sisters who have completed the programme to date, observing and celebrating our realignment to 'sisterhood truths'; offering and utilising the camaraderie of sisters to rise to new positions because Elevate provides us with the experience and privilege of a context where we are not minoritised.
Elevate's facilitation team are from the 'sisterhood' of the Ubele Initiative. https://www.ubele.org/
The programme comprises of seven modules, 4, (alumni supported) action learning sets as well as cross institutional mentoring support from university-based allies. This cross-university programme is delivered to sisters from Bristol, Exeter, Cardiff, UWE and Bath. 
⭐️ Black Culture Market in December
Black Culture Market - Christmas Market
Sat, 02 Dec and Sun, 03 Dec, 2023, 11:00 - 17:00 both days
Join Black Culture Market for their exciting Winter event for Christmas. Black Culture Market is the destination to support and shop from Black-owned businesses in Brixton. Over the weekend explore the wonderful stalls whilst catching up with friends. The market has something for everyone and supports emerging entrepreneurs & new black businesses of African & Caribbean descent with opportunities to be more visible in the retail industry. If you're looking for food, drinks, gifts, cards, unique art, jewellery, male grooming kits, skincare, clothes, accessories and more come down! This market truly the community's spirit as well as supports black businesses. Come early to avoid disappointment.  
This is a free event, however, you will need to pre-register here
Address: Downstairs at The Department Store, 248 Ferndale Road, Brixton, SW9 8FR
⭐️ Haringey Community Impact Awards 2023
Closing date: 5pm, 6 November 2023
Your dedication to creating positive change has not gone unnoticed, and it's time to shine a spotlight on your inspiring work! We are thrilled to announce the return of our much-anticipated annual awards! 
Join us in celebrating outstanding individuals, projects, and initiatives within our communities at the Haringey Community Impact Awards 2023.  
We invite all Haringey community groups to apply for our awards! Whether you focus on health & wellbeing, community safety, arts, or any other area, there's a category for you to shine and apply in. You are welcome to put forward your organisation, service or project for an award.  
⭐️ Grants for Projects Supporting Children & Young People's Mental Health
Closing date: 4 December 2023
The North Central East London (NCEL) Child and Adolescent Mental Health Services (CAMHS) Provider Collaborative is offering grants:
Inequalities Fund: Projects involving children and young people that address mental health disparities.

Early Intervention & Community Support Fund: Initiatives aiming to reduce hospital admissions for children and young people.
From a total fund of £1.5M, grants will range from £5,000 to £50,000. We're especially interested in projects that benefit children and young people with learning disabilities and autism.
Projects should be ready to commence in January 2024 and are expected to run for 12 months. Express an interest now to find out more
⭐️ Black History Month Special - Ubele Newsletter
Our monthly Ubele Newsletter went out last week. It includes a special message from Yvonne Field OBE as well as details of some of our latest projects and events planned. Read it now, here
Sign up to the monthly Ubele news, here: http://eepurl.com/dxgHjr