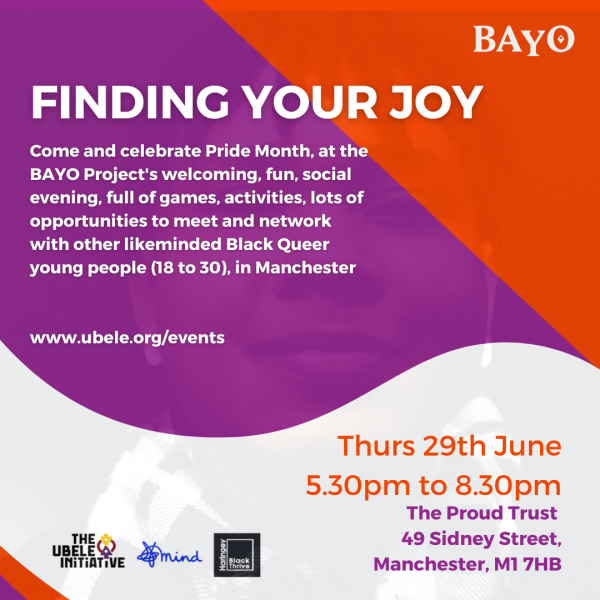 BAYO is hosting an event - "Finding Your Joy", in Manchester on 29th June. Come and celebrate Pride Month, at the BAYO Project's welcoming, fun, social evening.
Full of games, activities, lots of opportunities to meet and network with other likeminded Black Queer young people (18 to 30), in Manchester!
More details are on the events taking place this month are here
Raising awareness of the people with multi-sensory impairment, or deafblindness. Deafblind Awareness Week information is here. A person is regarded as deafblind if their combined sight and hearing impairment cause difficulties with communication, access to information and mobility. This includes people with a progressive sight and hearing loss.
Closing night - Genesis Cinema. Join Windrush Film Festival as they close out the 4th annual Windrush Caribbean Film Festival – the UK's biggest celebration of Caribbean cinema with over 40 screenings, talks and live entertainment across 5 cities in 24 days. The evening (hosted by actress Judith Jacob) will include an awards ceremony celebrating the best in show from this year's festival. Alongside the presentation of the Paulette Wilson Justice award. Details here
Read the Windrush Special Edition newsletter here
Be sure to check back here every week for more news, events and opportunities.
Sign up to the monthly news, here: http://eepurl.com/dxgHjr